wróć
12.05.2022
We are only one week away from the start of the 29th International Fryderyk Chopin Piano Competition for Children and Youth in Szafarnia. Exactly on May 18, we will inaugurate the Competition with a recital performed by Kamil Pacholec, who in 2021 received a distinction at the 18th International Piano Competition. Frederic Chopin in Warsaw. From 19 to 21 May we will listen to the auditions in three age categories:
1st children up to 10 years old,
2nd 11-13 years old,
3rd 14-16 years old
Nearly 90 young pianists applied for this year's edition of the Competition, and 55 participants, this year representing 20 countries, qualified in accordance with the regulations. The participants will be judged by an international jury chaired by prof. Katarzyna Popowa-Zydroń composed of: prof. HunJu Sohnn (South Korea), prof. Ewa Pobłocka (Poland), prof. Alberto Nosé (Italy), prof. Jordi Benseny Plaza (Spain), prof. Andrzej Tatarski (Poland). On Sunday, at 12 pm., we will listen to the open-air Concert of Laureates – the recitals of best pianists of this year's edition of the Competition. The prizes are both in cash and in the form of concerts, e.g. in Żelazowa Wola, at the Grand Theater in Łódź or the Chopin Center in Szafarnia.
We encourage you to participate in the auditions and the Laureates' Concert, as well as to follow the presentations of young pianists online via our YouTube channel, www.szafarnia.art.pl. All events will take place at the Chopin Center in Szafarnia, admission to which is free.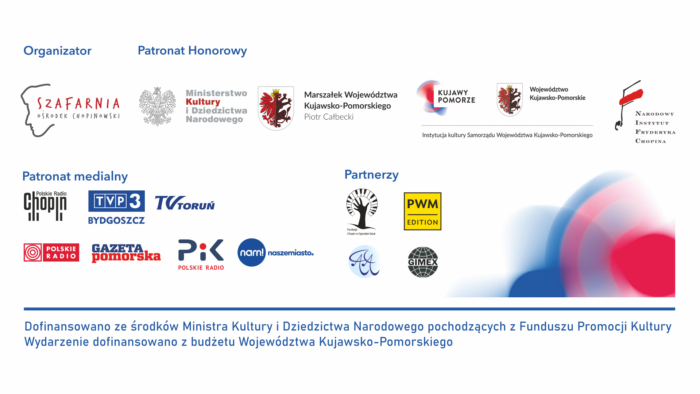 wróć