wróć
02.05.2022
Ladies and Gentlemen, below we present a list of participants qualified to the 29th International Fryderyk Chopin Piano Competition for Children and Youth in Szafarnia:
Group I:
BRZOSTOWICZ MIKOŁAJ (POLAND)
CHAN DILLON SZE-PUI (AUSTRALIA)
GOŚLIŃSKI SZYMON (POLAND)
HADELI EMMELINE CHLOE (INDONESIA)
HOWL MACIUCA (ROMANIA)
KLISZCZAK KLARA CZESŁAWA (POLAND)
PLUST MAGDALENA (POLAND)
PROKOPÓW PIOTR (POLAND)
PYCH ŁUCJA (POLAND)
YERMAK MARIIA (UKRAINE)
TARKO ADAM (POLAND)
ZGORZELSKI DANIEL (POLAND)
ZHAO ARIA (USA)
Group II:
CHEN GIULIANNA (CANADA)
DAVYDENKO ANTHONY (CANADA)
GRZYWIŃSKI MIŁOSZ (POLAND)
GÜLENÇ ARYA SU (TURKEY)
JĘDRZEJCZYK KONRAD ADAM (POLAND)
KAŠUBAITĖ KLĖJA (LITHUANIA/UKRAINE)
KAUCH FILIP (POLAND)
KLECZEK EVELINA ANIA (USA)
PAN YUFENG (SWEDEN/CHINA)
PIEKARZ IGNACY (POLAND)
SIEMIENOWICZ KAROLINA (POLAND)
WANG EVA (AUSTRIA)
WESOŁOWSKI JÓZEF (POLAND)
WILLNER-PASTER JULIA JOANNA (POLAND)
WOJDAK ZUZANNA (POLAND)
WYSOGLĄD ZUZANNA (POLAND)
YIP YU HO (HONG KONG)
ZHANG ALEX RONGSHENG (CHINA/SWEDEN)
ZHANG PINTING (CHINA)
ZNAMIROVSKÝ ADAM (CZECH REPUBLIC)
Group III:
DOMAGAŁA MACIEJ (POLAND)
DU ZHUOQING (CHINA)
JEONGWOO LEE (SOUTH KOREA)
JUCHNO SZYMON (POLAND)
KAŠUBAITĖ KAJA (LITHUANIA/UKRAINE)
KIEŁBASIŃSKA IRENA (POLAND)
KLECZEK ANTONI IGNACY (USA)
LASZCZKOWSKA ANTONINA (POLAND)
MÜLLER JAN (SWITZERLAND)
NOWICKA ZOFIA (POLAND)
PACZEŚNY FILIP (POLAND)
PAN GUANZHONG (CHINA)
PEH NICHOLAS (MALAYSIA)
ROZSONITS ILDIKÓ (HUNGARY)
SARAC CAN (TURKEY)
TAN KAI RONG TOBY (SINGAPORE)
URZĘDOWSKA ANNA MARIA (POLAND)
VASSILEV IVAYLO (BULGARIA)
WANG RYAN (CANADA)
WEZNER MARIA BOGUMIŁA (POLAND)
WU RUBY (HONG KONG)
YAO QIRAN (CHINA)
In case of resignation of any of the participants, the first person from the reserve list will be qualified. Order of participants on the reserve list according to the score in the preliminaries.
Qualifiers will receive an email this week with a written confirmation of their participation and further details about the Competition. Unqualified persons will be reimbursed in the near future. We encourage you to apply for the next, jubilee 30th IPC in Szafarnia.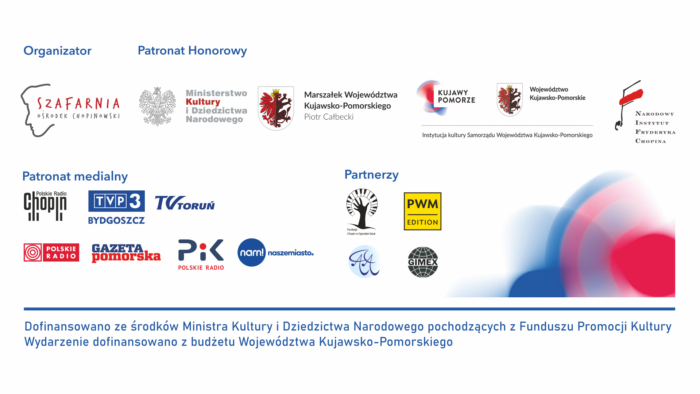 wróć