wróć
20.05.2022
After the auditions were completed, 12 winners were selected and 8 distinctions were awarded. In the second age group, 2 equal prizes were awarded.
GROUP I
1st prize: CHAN Dillon Sze-Pui (Australia/Australia)
2nd prize: PYCH Łucja (Polska/Poland)
3rd prize: GOŚLIŃSKI Szymon (Polska/Poland)
4th prize: PROKOPÓW Piotr (Polska/Poland)
5th prize: ZHAO Aria (USA/USA)
6th prize: BRZOSTOWICZ Mikołaj (Polska/Poland)
Distinctions:
Daniel Zgorzelski (Polska/Poland)
Maria Yermak (Ukraina/Ukraine)
---
GROUP II
1st prize (EX AEQUO): WOJDAK Zuzanna (Polska/Poland)
                                                 CHEN Giulianna (Kanada/Canada)
2nd prize: nie przyznano
3rd prize:  KAUCH Filip (Polska/Poland)
Distinctions:
Eva Wang (Austria/Austria)
Adam Znamirovsky (Czechy/Czech Republic)
Evelina Ania Kleczek (USA/USA)
---
GROUP III
Grand Prix – Antoni Ignacy Kleczek (USA)
1st prize KLECZEK Antoni Ignacy (USA/USA)
2nd prize:WANG Ryan (Kanada/Canada)
3rd prize: ROZSONITS Ildikó (Węgry/Hungary)
Distinctions:
Zhuoqing Du (Chiny/China)
Kai Rong Toby Tan (Singapur/Singapore)
Anna Maria Urzędowska (Polska/Poland)
In addition to the main prizes and distinctions, special prizes were also traditionally awarded for example in the form of concerts, sheet music and other gifts.
Additional prizes:
Award of the Consul of the Republic of Poland in Navarra, Basque Country and La Rioja Angel Tellechea Goyena for the best polish participant:
Łucja Pych (Polska)
Chopin in the Garden of Arts Foundation Prize (concert at the Chopin Center in Szafarnia)
Szymon Gośliński (Polska)
Zuzanna Wojdak (Polska)
Filip Kauch (Polska)
Award of the Director of the Grand Theater in Łódź, Dariusz Stachura (concert at the headquarters of the Theater)
Anna Maria Urzędowska (Polska)
Award of the Fryderyk Chopin Institute (concert in Żelazowa Wola)
Zhuoqing Du (Chiny)
Zuzanna Wojdak (Polska)
Filip Kauch (Polska)
Award of the Director of the Chopin Center in Szafarnia (concert at the Chopin Center in Szafarnia)
Antoni Ignacy Kleczek (USA)
György Ferenczy Foundation Prize for the best performance of Fryderyk Chopin's mazurkas
Zuzanna Wojdak (Polska)
Antoni Ignacy Kleczek (USA)
György Ferenczy Foundation Prize (invitation to Hungary)
Antoni Ignacy Kleczek (USA)
Ewelina Ania Kleczek (USA)
Zuzanna Wojdak (Polska)
---
Program koncertu laureatów / The program of the Prize Winners concert
22.05.2022 niedziela / Sunday
I grupa wiekowa / 1st age group
BRZOSTOWICZ Mikołaj – Samuel Majkapar Burzliwy Potok
CHAN Dillon Sze-Pui – Grażyna Bacewicz II Sonata fortepianowa, cz. III Toccata
GOŚLIŃSKI Szymon – Fryderyk Chopin Nokturn c-moll op. posth.
PROKOPÓW Piotr – Johann Sebastian Bach Partita B-dur BWV 825, Gigue
PYCH Łucja – Claude Debussy Doctor Gradus ad Parnassum
ZHAO Aria – Aaron Copland Kot i mysz
II grupa wiekowa / 2nd age group
CHEN Giulianna – Fryderyk Chopin Wariacje B-dur op. 12
KAUCH Filip – Fryderyk Chopin Polonez d-moll op. 71 nr 1
WOJDAK Zuzanna – Fryderyk Chopin Bolero a-moll op. 19
III grupa wiekowa / 3rd age group
KLECZEK Antoni Ignacy – Fryderyk Chopin Wariacje B-dur op. 2
ROZSONITS Ildikó – Joseph Haydn Sonata C-dur Hob.XVI:50, cz. I
WANG Ryan – Maurice Ravel La Valse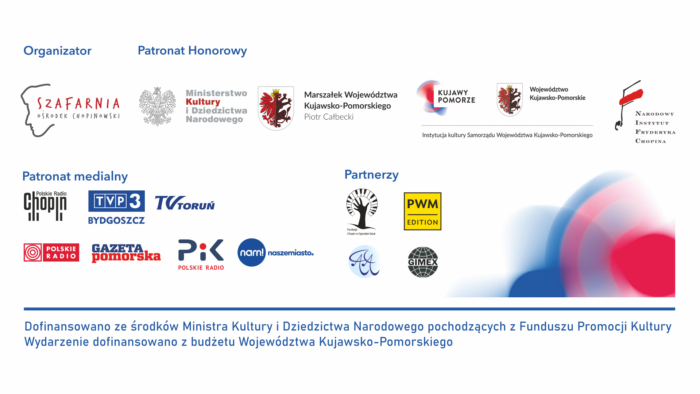 wróć