The Chopin's Year 2010 provides an extraordinary opportunity to promote Poland worldwide as the composer's country of origin. This is also a chance to briefly outline the towns located in the Kujawsko-Pomorskie Province and connected with Fryderyk Chopin.
During the celebration of the Chopin Year 2010 we recommend trekking along the Fryderyk Chopin Route in the Kujawsko-Pomorskie Voivodeship, which was created in the provincial cities, which are connected with the composer's life. The route also includes the places, which connected the composer's life with the lives of two women, which were very important to Chopin, namely Justyna nee Krzyżanowska, Chopin's mother and Maria Wodzińska, his first love.
As a result of connection of particular towns, 5 routes were created, which may be explored by car, bicycle or on foot depending on one's choice and length of the route. For instance, the route No. 4 with the length of 18 km may be explored on foot just in one day. By taking this route, you will use the Franciszek Łęgowski yellow pedestrian route, which is, at the same time, a section of the international E-11 route as well as the accompanying St. James's European Culture Route marked with yellow shell placed in the blue background. All the routes have been designed, delivered and maintained by tourists from the Municipal Division of PTTK in Toruń.
Route No. 1: Golub-Dobrzyń – Białkowo – Szafarnia – Bocheniec – Radomin – Ugoszcz – Obory – Kikół – Zbójno -Ruże – Dulsk – Sokołowo – Golub-Dobrzyń (85 km)
Route No. 2: Toruń – Turzno Golub-Dobrzyń – Działyń – Mazowsze – Obrowo (96 km)
Route No. 3: Toruń – Służewo – Ciechocinek – Nieszawa – Osięciny – Zgłowiączka – Sarnowo – Skaszyn – Izbica Kujawska – Świętosławice – Brdów – Modzerowo – Długie – Błenna – Kłóbka (165 km)
Route No. 4: Ciechocin – Dulnik – Golub-Dobrzyń – Białkowo – Płonko – Szafarnia (18 km)
Route No. 5: Radomin – Szczutowo – Gulbiny – Wąpielsk – Radziki Duże – Noskowizna – Tomkowo – Rodzone -Płonne – Rętwiny – Bocheniec – Szafarnia (40 km)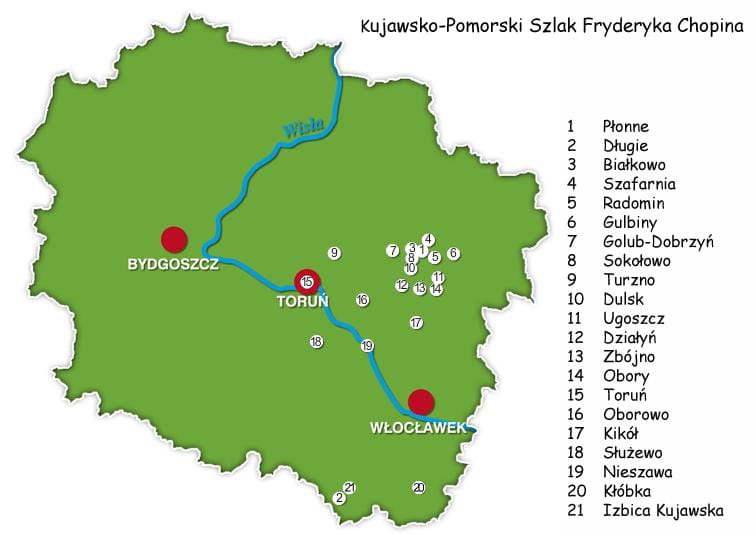 1 – Szafarnia | 2 – Długie  | 3 – Białkowo | 4 – Płonne | 5 – Radomin   |  6 – Gulbiny | 7 – Golub-Dobrzyń  |  8 – Sokołowo  |   9 – Turzno k. Torunia  |   10 – Dulsk | 11 – Ugoszcz  |   12 – Działyń  |   13 – Zbójno  |   14 – Obory  |   15 – Toruń  |   16 – Obrowo |  17 – Kikół  |   18 – Służewo  |   19 – Nieszawa  |   20 – Izbica Kujawska  |   21 – Kłóbka